You gotta listen to these Blake Ostler podcasts.  This topic is one that Blake had already published in BYU Studies in 1987.  But, fortunately for us, he recently put into podcast form.
In this weekly episode Ostler's synthesis is this:  the Book of Mormon has ancient, as well as modern, elements.
Ostler and his sons discuss several modern topics that others suggest influenced the Book of Mormon:  View of the Hebrews, the use of the King James Bible, claimed anachronisms, possible Wesleyan (Methodist) influence on Joseph Smith, a very developed form of Christianity (not available in ancient Judaism), and others.
Then Blake and his sons review the improbability of Joseph knowing ancient material and otherwise guessing correctly in so many areas.
Mosiah 1-5, 7-8:  closely reflect covenant renewal festival in the Old Testament
Abinadi and Samuel the Lamanite:  evidence of prophetic lawsuit, following biblical form
1 Nephi 1:  ancient form of prophetic commission
Blake sees ancient and modern influences in the same text.  The same thing occurs in the Bible, as older texts are re-purposed and redacted.
They also discuss the translation process that was not a simple fax from heaven.  William Smith described how Martin Harris used the breastplate/spectacles to translate in 1828. He stopped using this system, as it strained his eyes.
Once Oliver was involved (1829), Joseph used a chocolate-colored stone he found near him home when he was digging in a well.  Blake explains that David Whitmer's explanation — ancient text with English below — can't be the answer for a variety of reasons.
Joseph wouldn't have edited a text directly and exclusively given by God (with no room for variation or modification); in fact, in 1837 Joseph added and modified text to clarify
translation will never be directly and solely from God, unless God overpowers Joseph's mind
no translation can possibly be exactly word for word; and Joseph didn't know a language other than English at this time
Ostler speaks of the Gospel of John, which was written long after Jesus' death, and contained insights into Jesus' divinity (living water, bread of life, etc); these insights weren't understood at the time of Jesus, as the other Gospels show that the Apostles didn't understand Jesus' mission and teachings during his life; the Gospel of John in much more reflective and imposes a more complete view
Ostler argues that, like the Gospel of John, Joseph is receiving the revelation of the text, but also the true meaning of the text in a 19th Century thought world
not only is the Book of Mormon a translation (from the Golden Plates), but it's also a revelation with Joseph's expansion and reflected through Joseph's world
puzzler:  no text of Isaiah on table, but he has multiple chapters; uses neither plates nor book available while Joseph is looking at stone (within hat); he was simply inspired to know revelation; he translated just as he did the parchment of John, the Book of Abraham, the Book of Moses, and other translations (revelation is the answer)
early witnesses needed Golden Plates to help Church grow, not because Joseph viewed the plates to translate (in 1828 he gave up trying to understand the characters)
theory of revelation:  includes a human and God, but it's a human experiences; this experience requires interpretive framework; reflects ancient text, but his own abilities, terminology, and cultural influence has its effects observable
there's no such thing as revelation from God's point of view; we get revelation from our point of view
the Book of Mormon is twice inspired!  Once with the original prophet, but second with Joseph's expansion.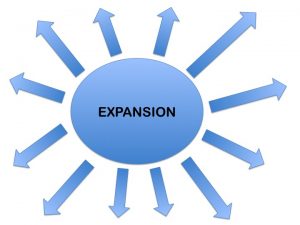 Was Joseph aware he was expanding beyond the plates?  In 1837, Joseph felt inspired to expand the already-published Book of Mormon.  Ostler argues that he originally followed inspiration, not knowing he was the instrument to expand.
Joseph was free to express, not give an isomorphic 1:1 translation.  Any translation has "play" in it.  Ostler believe he received concepts and phraseology, and then explained it.
The Book of Mormon revelation was given great liberty what the underlying text meant.
Ostler recognizes that chiasmus, Hebrew phrases, separate and unique voices in the book (Nephi, Jacob, Mormon, and Moroni) are all evidences against the expansion theory.