3 Witnesses:  saw and heard an angel.  The angel held the Gold Plates, flipped through the pages, called David by name, and testified.  The three witnesses, additionally, observed a table on which rested many ancient artifacts:  Gold Plates, Brass Plates, other plates, Liahona, Sword of Laban, and interpreters (seer stones).  These 3 witnesses were David Whitmer, Oliver Cowdery, and Martin Harris.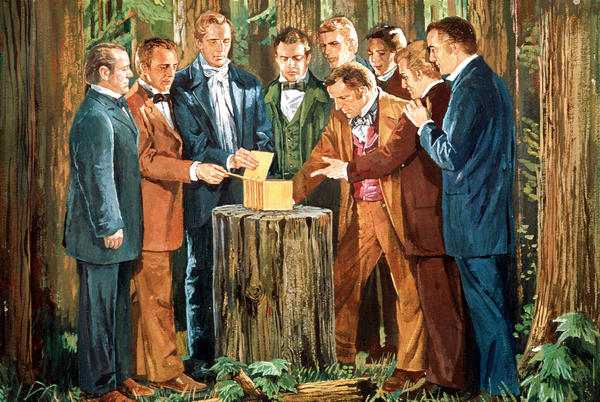 8 witnesses:  saw, held, and hefted the Gold Plates; flipped through the metal pages; and noted the engravings on the pages.   The plates were set on a stump. The eight men reported the sealed portion and the three D-shaped rings.  The eight saw the plates 1-2 days after the 3 witnesses saw the angel and objects.  These eight were Christian Whitmer, Jacob Whitmer, Peter Whitmer, Jr., John Whitmer, Hiram Page, Joseph Smith, Sr., Hyrum Smith, and Samuel Smith.
Richard L. Anderson (Harvard Law graduate & Berkeley PhD) is a leading authority on the Book of Mormon witnesses.  As an attorney, he understood the value of witnesses.  During Richard's study of these witnesses, he collected documents with over 200 positive and affirming statements from the 11 witnesses.
The three witnesses:  30 interviews or reports of contact w/ Oliver Cowdery, minimum of 70 with David Whitmer, and about 50 with Martin Harris.  The eight witnesses shared up to 60 reports, affirming their experiences holding and evaluating the Gold Plates.
In contrast, a very small number of records critical to the witnesses' testimony exist (8 to 10 total).   8-10 vs. 200.   So, around 5% of the total records relative to the witnesses argue that the witnesses made it all up.  Anderson shows how these critics — 1 named Stephen Burnett was recently excommunicated and hostile to the Church — take the witnesses' stories out of context, misreport, and otherwise claim the witnesses were not credible.  Richard discusses the topic  and critics below.
More anecdotes by Richard Anderson:
Richard Anderson wrote a wonderful book on this topic (red book below) that you can find here.
Dan Peterson is a professor at BYU and long-time defender of the LDS Church.  I enjoy Dan's style and share his 2006 presentation below:
Brian Hales debunks Dan Vogel and the CES Letter's claims critical to the Book of Mormon Witnesses: