Do you always believe everything negative about Hillary?  What about the bad news about Trump?  Immediately believe such news?
You shouldn't.  Everyone is wrong and makes mistakes.  Trump makes lots.  So does Hillary.  Some policies each proposes are bad.  All aren't good.  We should use balance, reason, and prudence to discern what is good and what is bad — not parrot like an uninformed, zealous partisan.
We find people debating every social, religious, and political issue every day.   On Facebook.  On blogs.  On TV.  At work.  Those in these debates can usually be placed on a continuum of reason vs. blind faith.  On a continuum of information and data vs. data-free emotion.
Atheists may have blind faith in their positions with no basis in fact.  Theist also may have blind faith with no basis in fact.  Your co-worker may be entirely emotional and not study any issues.  A neighbor may never be emotional and have every fact in the Universe memorized.  Everyone relies on some amount of faith and then an individual amount of facts.
We don't know everything, so we gotta have faith in many areas of life.  But to rely solely on emotion or blind faith isn't a good approach, in my view.  Instead, to we should gather all available data to make the most-informed decision possible.
I've noticed that many LDS critics fall into this category — partisan, uniformed zealots — on many topics.  They rush to judgment when an LDS official is accused of wrongdoing, for example (this has occurred recently online).  Indeed, in my experience zealous LDS critics often assume the worst when the topic involves Joseph Smith or current leaders.  More data or context isn't needed.  No way!  They "know" the truth, and their mind's made up.
This tendency — to assume the worst without evidence — is indicative of a problem.  A lack of balance and sense of proportion.  A willingness to be ignorant.  Perhaps lacking understanding that they're, in fact, ignorant.  But being ignorant, nevertheless.
A commitment to a cause — be it Trump, Hillary, the LDS Church, etc — that is not based in reality.  But in large amounts of emotion.
Critics of the Church (or any organization that is being unfairly maligned) often withhold exculpatory information.  This means, information that would exonerate or free of wrongdoing is intentionally withheld.  This is dishonest.
Remember the Duke Lacrosse case?  The lacrosse players hired a stripper.  Bad idea. But they didn't rape her, as she later claimed.  The District Attorney assigned to the case stretched out the case longer than he should of, and used it as a way to get reelected.
It turned out, the DA also withheld evidence that would have freed the boys and avoided ruining their reputations (and lives for a few years).  That is, he buried exculpatory evidence.  He was disbarred (lost his law license) for this action.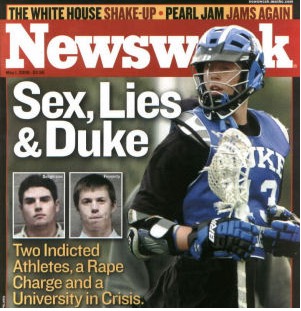 These kinds of practices are dishonest, unethical, and a form of misrepresentation.  Fair-minded people need to weigh the evidence.  They should see the often weak claims — especially in light of more data and context — as undermining of a critic's position.  Waiting and researching prevents quick, rash, overreactions.
Of course, Mormons can also be immensely defensive and not follow the facts.  They shouldn't.  Latter-day Saints should follow the evidence and increase their testimony.  After all, we embrace all truth!
Mormon leaders have not and never will be perfect.  Neither have biblical leaders or leaders of any organization now or in history been perfect.  But, as unfamiliar issues and controversies arise, let's gather all the possible associated data before we throw out the baby with the proverbial bathwater.
If you're too quick at either activity — to defend or to accuse —  rather than gather the evidence fully, you might fall into the zealot camp.  An overzealous and uninformed fan with lacks proportion, balance, and all the context.
So, if you're an absolute, fully committed, all-in Trump, Hillary die hard, LDS critic, or uninformed partisan for the LDS faith you might want to evaluate your positions and look at more data before you jump to the defense of your candidate or annihilation of your opponent.
My experience is that the vast, vast majority of Latter-day Saints don't rob, steal, or assault sexually (or otherwise).  However, some do.  And our past leaders were good men.  And our religious practices took place in a real, historical context that takes time to appreciate.  So, as we learn, let's hear all sides, allow for due process, and not rush to judgment.

And when questions arise relative to items in LDS history, please take the time to do the research.  You shouldn't immediately trust LDS critics, nor should you exclusively trust what your Uncle Bob might say about our own history (even if he's an active member).  Study things on your own.  Weigh the evidence.  And strive for balance and prudent understanding.
The best route is to follow the advise given in this podcast:  always consider the best in other faiths and groups.  Don't knock down their weakest point.  Appreciate their strongest point!
As we learn, we should consider a few ideas in the below video (start at 16:30 mark to avoid long introduction and personal anecdotes):