Good summary at the Conflict of Justice blog: Was Martin Harris A Superstitious, Gullible, And Unreliable Witness?
Martin Harris left the Church in 1837 during the Kirtland Bank Crisis. A financial panic that affected the entire country, not just Kirtland, Ohio.
After Martin left he affiliated with many sects from the Quakers to break-off LDS factions. But never did he renounce his faith in the Book of Mormon. Nor did he deny his testimony as a witness to the angel, the Liahona, Golden Plates, Brass Plates, and several other objects on the table in 1829.
For a time, Martin Harris associated with Gladden Bishop. Bishop claimed to have the authority to lead the Church after Joseph's death. Eventually, many of his followers abandoned Bishop in the 1850s and led by Granville Hedrick formed The Church of Christ (Temple Lot).
Before Joseph's death, Bishop made all kinds of claims without evidence. Bishop never got witnesses to support his claims to have received the Liahona, the lost 116 pages, the golden plates, the breastplate of Moroni, etc.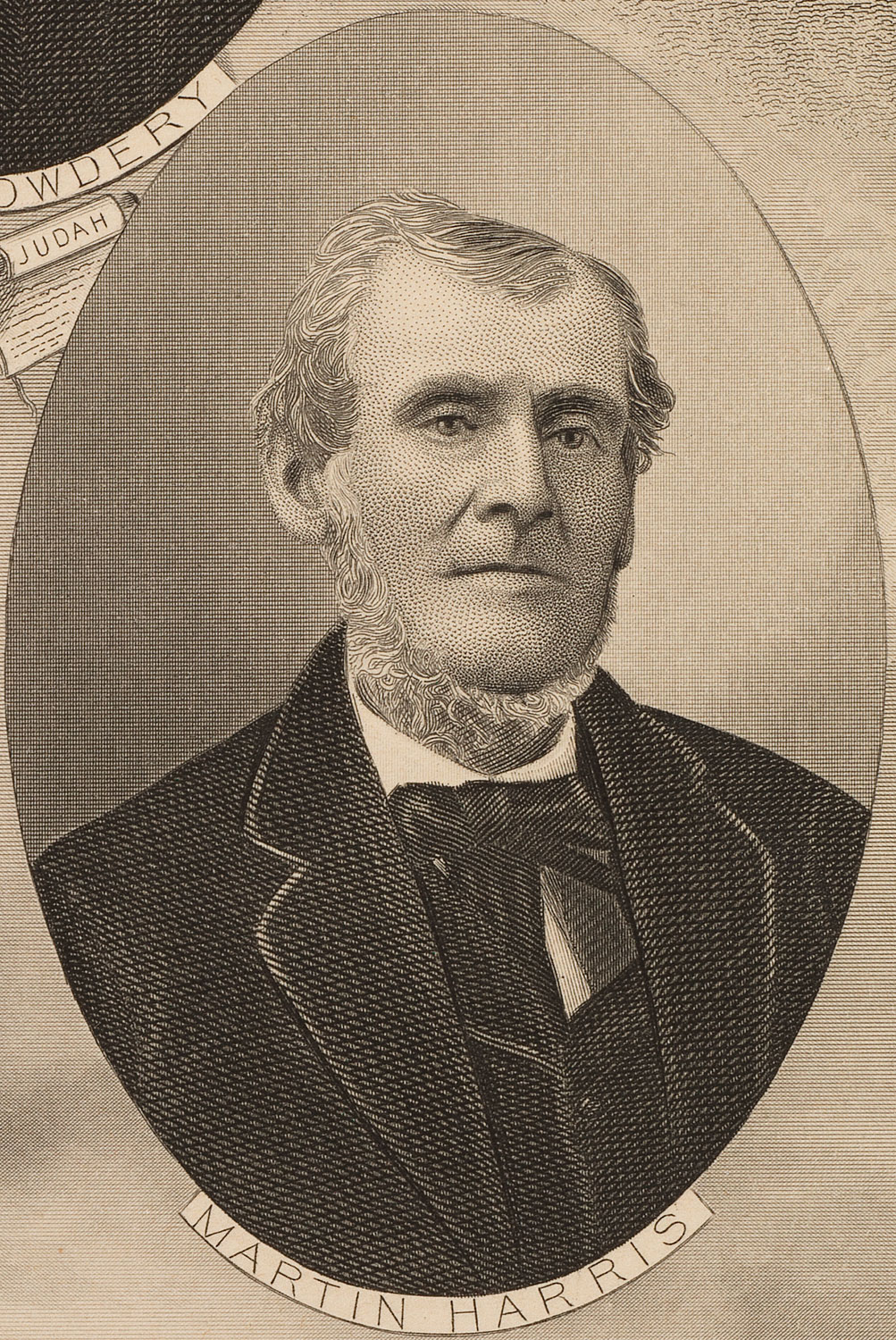 During Martin Harris' many years away from the Church, Martin affiliated with more than one LDS- related group — even ones with leaders making incredible claims — but never himself denied his own testimony.
Consider reading this account by Susan Easton Black on Martin's long absence from the Church.
A few interesting paragraphs:
David Dille had known Martin in the 1830s. Dille was called to serve a mission to England in 1852. On his way to England, Dille visited Martin Harris in Kirtland. David recorded the following:
"Although Martin was in bed at the time and had resolved not to "admit anyone into his room for three days," he allowed his old acquaintance to enter. "His good wife introduced me to him, he received me very coldly but told me to take a seat," recalled Dille. "I obeyed." After a few moments, Martin inquired, "How are they getting along at Salt Lake?" Dille answered, "Fine, delightfull." Dille's response was not satisfactory to Martin.
He came to the point: "How are they getting along with polygamy?" Dille said, "Them that was in it was very comfortable." Martin pressed him for a better answer: "How do you reconcile polygamy with the doctrine taught by one of the old prophets?" Dille replied, "Mr. Harris, if necessary take what you call polygamy to fulfill that prophecy. . . . There is more females born into the world than there is males and besides the many thousands of young men slain in battle, leaving the ladies without a mate." After reflecting upon his answer, Martin said, "It is so but I never thought of it in that light before." He then interrupted their conversation to ask Caroline to bring him breakfast before again turning to Elder Dille.
"I have not eaten anything for three days but the old spirit of Mormonism has cured me," he claimed. Martin then entreated the missionary, "You must stay with me all day." Having made other plans, Dille told Martin that he would be visiting "Bro. Whiting that afternoon." And then Martin invited him to "stay till noon and we will get you a good dinner and I will go with you." Dille replied, "You can't go, you are sick."
At this, Martin sprang out of bed and began to put on his clothes while saying, "sick, no, you have brought the old spirit of Mormonism here and it has cured me." After dinner, both men called upon Brother Whiting. It was in the Whiting home that Martin spoke at length of the coming forth of the Book of Mormon:
Do I not know that the Book of Mormon is true? Did I not hear the voice of God out of heaven declaring that it was truth and correctly translated? Yes[,] I did[,] and you know I did for I see you have the spirit of it. . . .
I know that the plates have been translated by the gift and power of God, for his voice declared it unto us. . . . And as many of the plates as Joseph Smith translated I handled with my hands, plate after plate. Martin then estimated the dimensions of the plates: "I should think they were so long [demonstrating with his hands], or about eight inches, and about so thick, or about four inches; and each of the plates was thicker than the thickest tin."
Dille asked him if he "ever lost 3,000 dollars by the publishing of the Book of Mormon." Martin replied, "I never lost one cent. Mr. Smith . . . paid me all that I advanced, and more too."
So, Martin harbored issues about polygamy and Brigham Young, but the still believed in the Book of Mormon.
Elder Colburn, like Elder Dille before him, had known Martin years before. Colburn had been baptized in 1833 and had marched with Martin in Zion's Camp in 1834. It seemed natural for him to search out an old friend. Colburn had a "lengthy interview" with Martin.
He sent news of their discussion to Elder Erastus Snow, editor of the St. Louis Luminary. Excerpts of his interview were printed in the Luminary:
"At first [Martin Harris] was down on polygamy, but before we left he informed me that he never should say a word against it. He confessed that he had lost confidence in Joseph Smith, consequently, his mind became darkened, and he was left to himself; he tried the Shakers, but that would not do, then tried Gladden Bishop, but no satisfaction; [he] had concluded he would wait until the Saints returned to Jackson Co., and then he would repair there.
He gave us a history of the coming forth of the Book of Mormon; his going to New York and presenting the characters to Professor Anthon, etc.; concluded before we left that "Brigham was Governor," and that the authorities were there, and that he should go there as soon as he could get away. Yet once again, Martin did not make good on his promise. He refused to leave his beloved Kirtland."
Martin was in his 70s when he helped his much-younger wife (40) move to Iowa. Caroline Young Harris was a niece of Brigham Young. After moving his family, Martin soon returned to Kirtland. A few years after living in Iowa, Caroline moved to Utah. After years of living alone, Caroline Harris remarried.
Another account of Martin and William Smith attempting to start a new church in Kirtland:
Elder Beese reported to Pres. Young's office that "Martin Harris had reorganized the Church in this place with 6 members. Appointed Wm. Smith their Leader Prophet Seer & Revelator. In [a] few days Harris drove Wm. Smith out of the place & damned him to Hell." William's aspirations for presidency were short-lived at the hands of a disgruntled Martin Harris.
A relative of Martin's visited him at the end of his mission to England:
Elder Homer introduced himself to Martin "as a brother-in-law of Martin Harris, Jr.,—as he [Martin Jr.] had married my eldest sister—and as an Elder of the Church who was returning from a foreign mission."
Martin snapped, "One of those Brighamite 'Mormons,' are you?" He then "railed impatiently against Utah and the founder of the 'Mormon' commonwealth." To Homer, "Martin Harris seemed to be obsessed. He would not understand that there stood before him a man who knew his wife [Caroline] and children, who had followed the Church to Utah."
After a time, Martin asked, "You want to see the Temple, do you?" Elder Homer nodded. "I'll get the key," said Martin. According to Homer, Martin now "radiated with interest." He led Homer and his cousin into the Kirtland Temple and "through the rooms of the Temple and explained how they were used. He pointed out the place of the School of the Prophets. He showed us where the Temple curtain had at one time hung. He related thrilling experiences in connection with the history of the sacred building."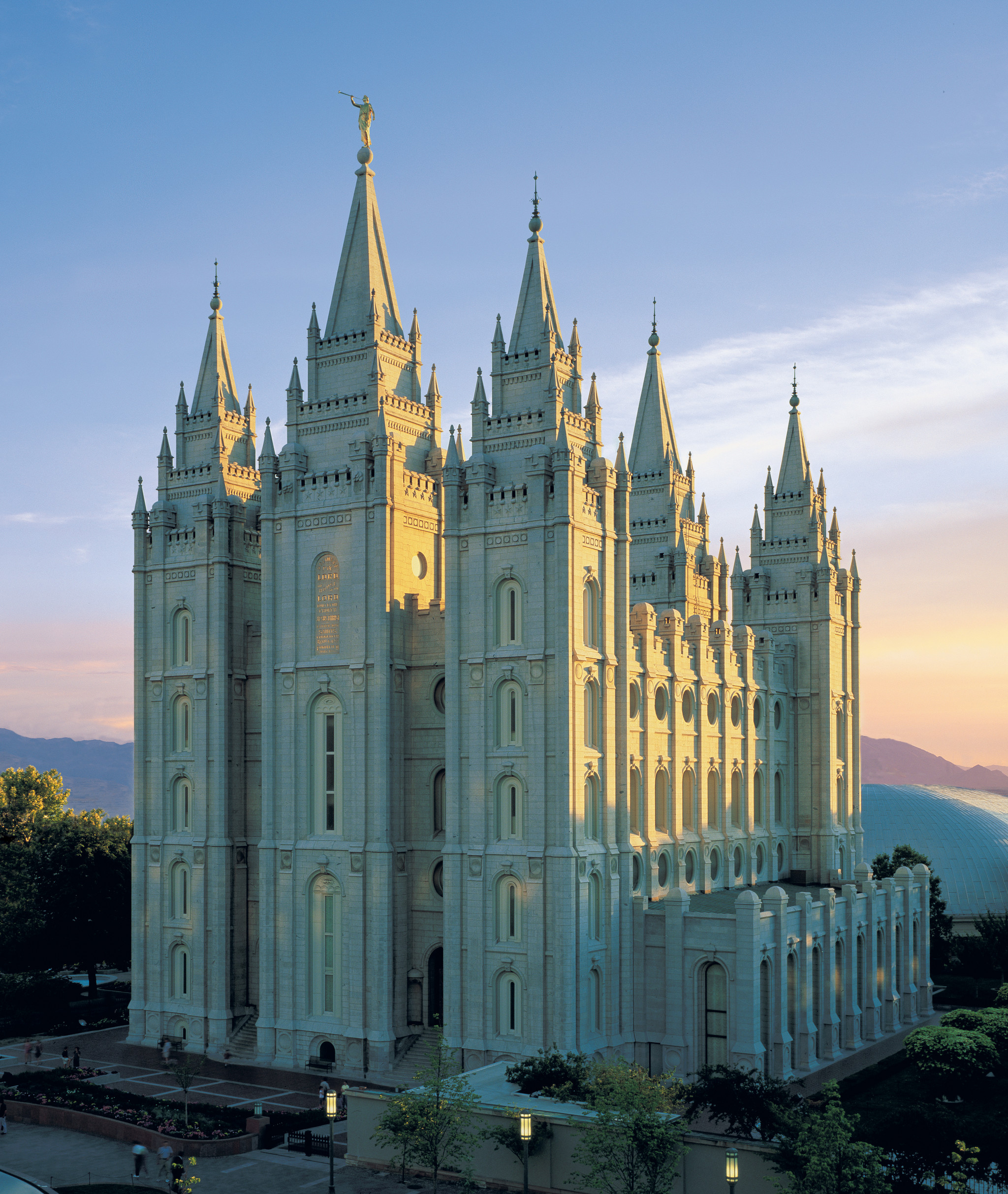 While speaking of the neglected state of the temple, Martin again railed "against the Utah 'Mormons'" and said that a "gross injustice had been done to him. He should have been chosen President of the Church." It was then that Martin seemed "somewhat exhausted."
While they were resting, Homer asked, "Is it not true that you were once very prominent in the Church, that you gave liberally of your means, and that you were active in the performance of your duties?" Martin replied, "That is very true." He mused, "Things were alright then. I was honored while the people were here, but now that I am old and poor it is all different."
Homer reported that when questioned about his belief in the Book of Mormon, "the shabby, emaciated little man before us was transformed as he stood with hand outstretched toward the sun of heaven." "Young man," answered Martin Harris with impressiveness, "Do I believe it! Do you see the sun shining! Just as surely as the sun is shining on us and gives us light, and the [moon] and stars give us light by night, just as surely as the breath of life sustains us, so surely do I know that Joseph Smith was a true prophet of God, chosen of God to open the last dispensation of the fulness of times; so surely do I know that the Book of Mormon was divinely translated. I saw the plates; I saw the Angel; I heard the voice of God. I know that the Book of Mormon is true and that Joseph Smith was a true prophet of God.
I might as well doubt my own existence as to doubt the divine authenticity of the Book of Mormon or the divine calling of Joseph Smith." To Homer, "it was a sublime moment. It was a wonderful testimony." Indeed, "it was the real Martin Harris whose burning testimony no power on earth could quench." Homer claimed that hearing him testify was "the most thrilling moment" of his life.
It was then that Martin turned to Elder Homer and asked, "Who are you?" Homer explained for the second time his relationship. "So my son Martin married your sister," repeated the old man, shaking his hand. "You know my family then?" "Yes," he replied, "Wouldn't you like to see your family again?"
Martin admitted that he would "like to see Caroline and the children" but lamented that his impoverished circumstances prevented such a visit. "That need not stand in the way," Homer said. "President Young would be only too glad to furnish means to convey you to Utah." The mere mention of Brigham Young angered Martin. "Don't talk Brigham Young," he warned. Martin then declared, "He would not do anything that was right." Homer suggested that Martin "send him a message by me."
Martin refused. Yet he did admit, "I should like to see my family." Homer entreated him again to convey a message to President Young. Martin replied, You call on Brigham Young. Tell him about our visit. Tell him that Martin Harris is an old, old man, living on charity with his relatives. Tell him I should like to visit Utah, my family, my children—I would be glad to accept help from the Church, but I want no personal favors.
Read the rest through the link above.