Elder Oaks presented this above-linked paper in 1993 at a FARMs conference and had it published again in 2001.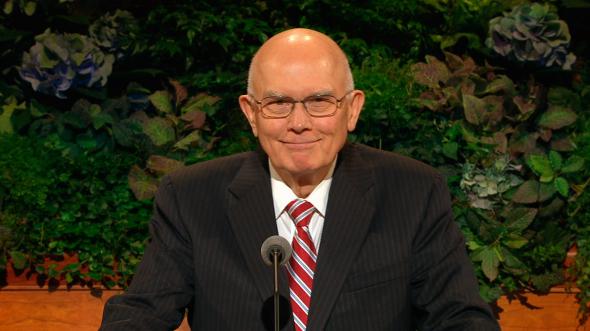 Opening key points:
The issue of the historicity of the Book of Mormon highlights the difference between those who rely solely on scholarship and those who rely on revelation, faith, and scholarship.
Those who rely solely on scholarship reject revelation and focus on a limited number of issues. But they can neither prove nor disprove the authenticity of the Book of Mormon through their secular evidence and methods.
On the other hand, those who rely on a combination of revelation, faith, and scholarship can see and understand all of the complex issues of the Book of Mormon record, and it is only through that combination that the question of the historicity of the Book of Mormon can be answered.
Closing summary:
In this message I have offered some thoughts on matters relating to the historicity of the Book of Mormon.
1. On this subject, as on so many others involving our faith and theology, it is important to rely on faith and revelation as well as scholarship.
2. I am convinced that secular evidence can neither prove nor disprove the authenticity of the Book of Mormon.
3. Those who deny the historicity of the Book of Mormon have the difficult task of trying to prove a negative. They also have the awkward duty of explaining how they can dismiss the Book of Mormon as a fable while still praising some of its contents.
4. We know from the Bible that Jesus taught His apostles that in the important matter of His own identity and mission they were "blessed" for relying on the witness of revelation ("the things that be of God"), and it is offensive to Him for them to act upon worldly values and reasoning ("the things . . . that be of men") (Matt. 16:23).
5. Those scholars who rely on faith and revelation as well as scholarship, and who assume the authenticity of the Book of Mormon, must endure ridicule from those who disdain these things of God.
6. I have also illustrated that not all scholars disdain the value of religious belief and the legitimacy of the supernatural when applied to theological truth. Some even criticize the "intellectual provincialism" of those who apply the methods of historical criticism to the Book of Mormon.
I testify of Jesus Christ, whom we serve, whose Church this is. I invoke his blessings upon you, in the name of Jesus Christ, amen.
Good overview:
Elder Oaks references this essay by world-famous LDS author Orson Scott Card:  The Book of Mormon – Artifact or Artifice?
OSC's final paragraph:
"Joseph Smith didn't write the Book of Mormon, though he did translate it, so that his voice is present when we read, including the flaws in his language and understanding.

Those who wrote the original were also fallible human beings who will reveal their culture and their assumptions just as surely as the writers of I Love Lucy did.

But unlike the writers of that TV show, the prophets wrote and translated under the direction of the Lord, out of love for us. It's well worth finding out who these men were, the culture from which they wrote, how it's different from ours, and how it's also very much the same."
Kwaku shares good evidence:
A broad discussion on historicity:
By William Hamblin:  Basic Methodological Problems with the Anti-Mormon
Approach to the Geography and Archaeology of the Book of Mormon.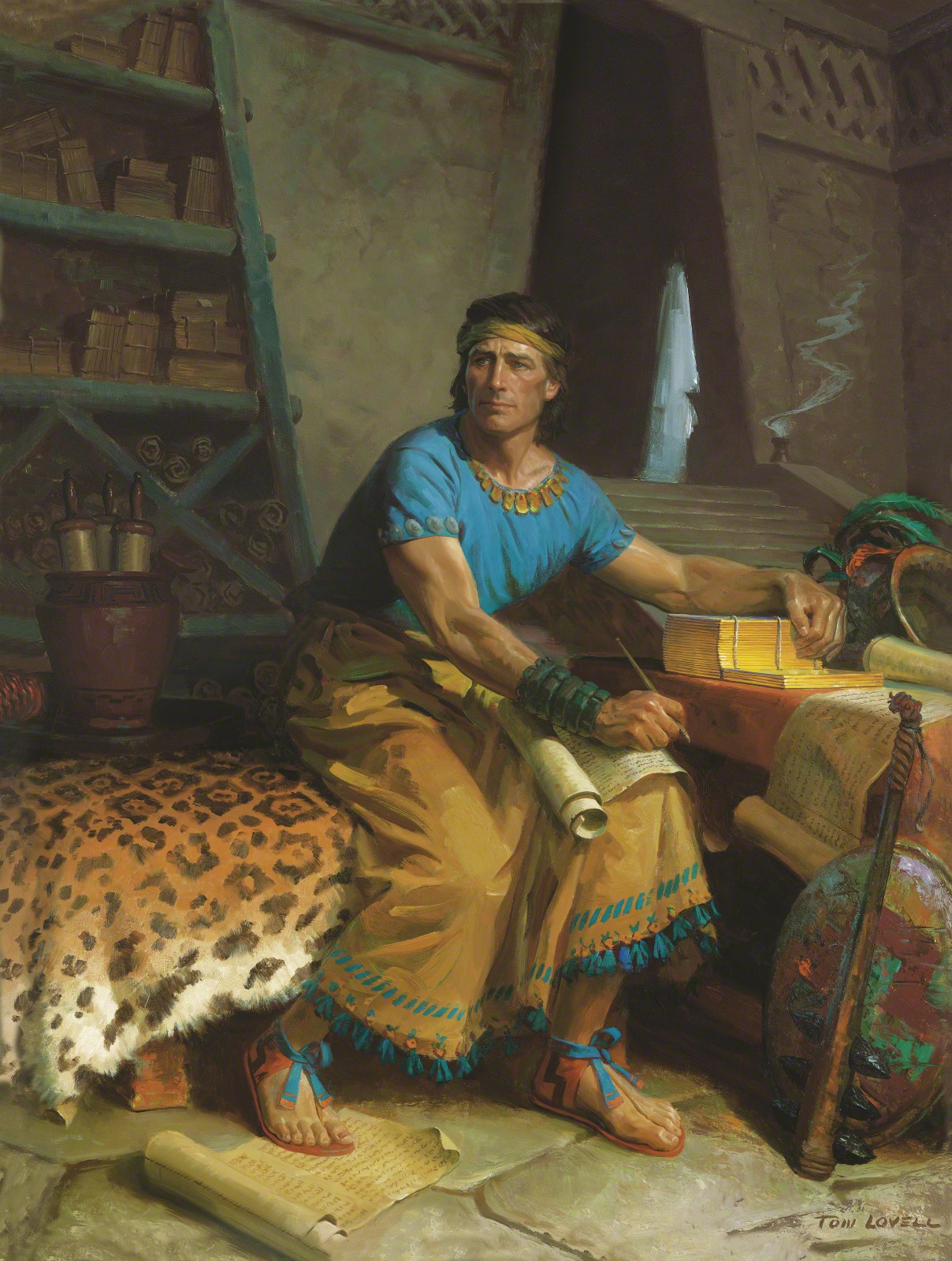 Before getting into the specific evidences, please consider Brant Gardner presentation as it discusses Mormon as editor of the Book of Mormon.  He didn't simply abridge or chop the volume down from lots to less.  Mormon was active, intentional, and selective in his process.  He was completing his duty as a national scribe.
Brant shares evidence of Mormon having an outline of his work in advance, before he completed the abridging process at age 57 near the Hill Shim.  He got the full collection of plates around the 367th year at age 56.   He chronicled for 22 years on the large plates of Nephi.
For 13 years Mormon read and digested the collection of plates, preparing an outline or draft.  He wrote the Book by at least 379 (58 years old) and completed writing in 385.  He died between AD  385 and 391, by which time Moroni is writing.
Chapter Head notes:  synoptic headnotes for Helaman and 3 Nephi.  Mormon wrote them prior to their chapters.
Most head notes are in the beginning of named books.  1 Nephi, 2 Nephi, and Jacob had head notes.  Appear at every book Mormon edited, but Mosiah.  The lost 116 pages included at least the first chapter of Mosiah, which book now lacks a head note.  Mormon didn't edit Mormon, Ether, or Moroni — 3 books which lack headnotes.
Mormon had a clear plan in advance and wrote a summary in advance.  He wrote his own text (Mormon), as he progressed and approached his death.
Brant also points out that books change names, only as changes occur in political lines.  That is, when Mormon sees a newly seeded ruler.
Please also consider this presentation on Book of Mormon "hits."
Historicity is defined as the historical actuality of persons and events, meaning the quality of being part of history as opposed to being a historical myth, legend, or fiction.
Critics have long cried out that this or that animal and plant — mentioned in the Book of Mormon — was never in the Americas.  Critics claim Joseph's creative mind made it all up .  We disagree and will describe the evidence in support of Book of Mormon historicity.
Or that a certain plant or animal was introduced after Columbus, but not before.  Over time, more and more evidence has accumulated in favor of the Book of Mormon account.
If Joseph had created the book out of thin air, how did he possibly get more than a few things right?
As an uneducated farm boy how did he even create a coherent narrative with 100s of internally consistent correspondences that actually match much — not just 1-2 things — in Mesoamerica?
Martin Tanner at KSL in Salt Lake City is a good place to start.  Martin discusses the archaeological challenges  associated with the Bible and the Book of Mormon.  He spends most of this podcast discussing Mesoamerica and Book of Mormon evidences.
Matt Roper discusses previous claims — once considered "howlers" or slam dunks against the Book of Mormon.  Current scholarship has rejected many previous, critical claims and greatly strengthened the claims in support of the Book of Mormon.
Robert Boylan's insight about authentic names in the Book of Mormon:
FAIR Mormon reports on Geology, Archaeology, and Mesoamerican history.
Jeff Lindsay responds here to controversy surrounding previous Book of Mormon historicity statements by the Smithsonian.
More from Jeff Lindsay on criticisms related to wheat, barley, figs, grapes, bees, chicken, turkeys, swine, oxen, horses, elephants and more.
An LDS critic interviewed famed Mesoamericanist, Dr. Michael Coe, about Book of Mormon evidence. There was more than 1 issue with that interview.
Dr. John Sorensen responded here to the Dr. Coe interview. 
Perhaps the newest evidence supporting the Book of Mormon relates to language:
Linguist Brian Stubbs discusses some of his findings of both Hebrew and Egyptian — the two languages mentioned in The Book of Mormon — in the languages of the Native Indians in his 2006 FAIR Conference address.
Another conference with Brian Stubbs in 4/2016:
Brian Stubbs and the linguistic connection at the 2016 FAIR conference:
The Nephites could have set up their first established city in the Guatamalan Highlands.
Brant Gardner, John Sorenson, and others share insight into the use of metals in the Book of Mormon:
Alternate hypothesis that fits with history in Mesoamerica.
Watch the rest of these related Book of Mormon videos here.
Jeff at Latter-day Saint Q & A shares his insights:
Wade Miller spent his career at BYU as a professor of Paleontology and Geology.   He discusses more specific (and in the past controversial) topics below:
I just ordered Dr. Miller's book (see below):
Nephi stated that Laban's sword was of the "most precious steel". That makes no sense in a 19th century context, but perfect sense in the Bronze Age.
Daggers, axes and jewelry made from rare iron during the Bronze Age are literally out of this world, according to new research finding that ancient artisans crafted these metal artifacts with iron from outer space carried to Earth by meteorites.
Horses in Pre-Columbian America:
More on horses:
Daniel Johnson in his 2010 Book of Mormon Archaeological Forum:
Coins weren't used.  Instead, weights were.
Dr. Clark discusses the topic for the first 35 minutes of this video:
Progress from 1842 to 2005. Screenshots from Dr. Clark's presentation above:
Matthew Roper is currently a Research Scholar at the Neal A. Maxwell Institute for Religious Scholarship at Brigham Young University. He received a B.A. in History and a M.A. in Sociology from Brigham Young University.
Joseph Smith gave a wide variety of opinions about the location of the Book of Mormon peoples.   You can read about his many views  here.
In 1842, for the first time, Joseph considered Mesoamerica after reading  a very popular book by John L. Stephens, Incidents of Travel in Central America, Chiapas, and Yucatan.  
1 OCT. 1842: ZARAHEMLA "STOOD UPON THIS LAND" OF CENTRAL AMERICA

NOTE: Page 942 of this issue of the Times and Seasons states: "The Times and Seasons, Is edited, printed and published about the first fifteenth of every month, on the corner of Water and Bain Streets, Nauvoo, Hancock County, Illinois, by JOSEPH SMITH."

[W]e have found another important fact relating to the truth of the Book of Mormon. Central America, or Guatimala [Guatemala], is situated north of the Isthmus of Darien and once embraced several hundred miles of territory from north to south.-The city of Zarahemla, burnt at the crucifixion of the Savior, and rebuilt afterwards, stood upon this land as will be seen from the following words in the book of Alma…

It is certainly a good thing for the excellency and veracity, of the divine authenticity of the Book of Mormon, that the ruins of Zarahemla have been found where the Nephites left them: and that a large stone with engravings upon it as Mosiah said; and a 'large round stone, with the sides sculptured in hieroglyphics,' as Mr. Stephens has published, is also among the left remembrances of the, (to him,) lost and unknown.

We are not going to declare positively that the ruins of Quirigua are those of Zarahemla, but when the land and the stones, and the books tell the story so plain, we are of opinion, that it would require more proof than the Jews could bring to prove the disciples stole the body of Jesus from the tomb, to prove that the ruins of the city in question, are not one of those referred to in the Book of Mormon…

It will not be a bad plan to compare Mr. Stephens' ruined cities with those in the Book of Mormon: light cleaves to light, and facts are supported by facts.(emphasis added)
LDS Truth Claims relative to the Book of Mormon in Mesoamerica: