Before we get to the Bigfoot discussion consider watching this video.  The video summarizes the background of the witnesses and the approach our critics often take:
A few years ago in an online forum a few of us were discussion the Book of Mormon.  To support our positions I mentioned the 11 witnesses. Someone replied that belief in Bigfoot (& associated claims) had as much reliability as the Book of Mormon witnesses.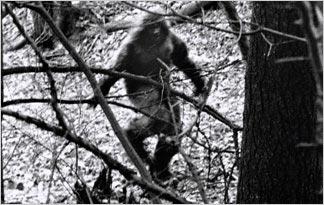 I asked him a few questions, poking him gently about his assertion. I'll list some of my questions below:
– Has Bigfoot ever been seen by more than 1 guy at a time?
I'd believe 2-3 or 8 simultaneous witnesses much more than 1.
– Did the Bigfoot sighting and associated claims last the test of time?
David Whitmer (image above) lived 60 years after seeing plates, other objects, and angel that day in 1829. All 11 witnesses suffered economically, socially, politically, and in other ways; yet, didn't deny their claims.
This link shares information of Martin Harris' consistent testimony throughout his life.
– Did the Bigfoot claimant crack under cross-examination and provide repeated, consistent statements?
The 11 witnesses provided over 200 personal statements & interviews, each time confirming the same details.  LDS and non-LDS interviewers applied lots of pressure and prodded the witnesses, testing them from every possible perspective.
– What were the circumstances of the Bigfoot sighting?  And was the testimony consistent?
I encouraged the fellow in the discussion to please find a Bigfoot sighting with 2 or more witnesses.  Each reported Bigfoot sighting tends to go like this:  one guy is alone in the forest near dusk.  Neither he nor we can see what is out there.  His gray, blurry, and shadow-filled video is typically far from conclusive.
In contrast, the 11 witnesses to the Book of Mormon were reporting what they saw in broad day light.  Their corroborating testimonies never wavered.
Further evidence, Joseph excommunicated nearly all the 11 witnesses at some point. Had this been a hoax or conspiracy — with so many of these men mad at him on 1 or many occasions — these witnesses would have turned on him. If it had been a grand hoax or elaborate scheme these men would have told the world of their great fraud.
Human nature would have ended this conspiracy, had it been one.  More than one of the witnesses at one point or another said Joseph was fallen or at least mistaken.  Several left the Church angry and disappointed.  Others among the witnesses had major disagreements with each other and Joseph. But none of them denied holding the plates (the 8 witnesses), seeing the angel (the 3 witnesses), etc.
– Did anyone touch Bigfoot during a sighting?
The 8 witnesses held the plates. They flipped through the metal pages. The 3 witnesses saw the angel turning the pages of the plates. Most Bigfoot sightings see the elusive furry creature from great distances.  And the camera images — no surprise!  — are always very fuzzy.
– How credible are folks claiming to have seen Bigfoot?
Martin was a highly successful farmer and public servant. David Whitmer was a successful business owner and mayor of Richmond, MO. Oliver Cowdery was a respected attorney.
Conclusion: it much, much easier to believe in the 11 witnesses than in those claiming to see Bigfoot.
P.S.  If Joseph Smith had been a fraud, why would he have forced himself to produce lots of ancient artifacts on 2 separate occasions?   3 guys see angel holding plates with lots of stuff on a nearby table.   A few days later, 8 guys hold what you've long been claiming to have translated — the Gold Plates.  He didn't have to show all this stuff.
P.P.S.  There's absolutely no evidence Joseph understood how to smelt and form metal plates.  Nor was he a hypnotist — something else critics claim he likely was involved in…
Brian Hales debunks Dan Vogel and the CES Letter's claims against the Book of Mormon witnesses:
Part II:
LDS critics often ignore the 200+ accounts given by LDS sources.  That is bad scholarship.  Would you like it if someone ignored all your personal claims, which are supported by others, and talked over you?  Telling you what you really experienced?  This is exactly what LDS critics often do.
To rely more on testimony from LDS critics, especially excommunicated Stephen Burnett (often cited by critics), and downplay the LDS witnesses themselves would create legal problems for an attorney in court.
A judge wouldn't appreciate an attorney withholding exonerating information if — as in the case of the 3 witnesses — the witnesses were credible and their accounts were intentionally suppressed.  Such an attorney would be sanctioned in court.
Remember the Duke lacrosse trial?  The DA was disbarred and prosecuted for burying exonerating information about the athletes.
Judge-imposed sanctions are penalties placed upon a party who is found in violation of the rules of court procedure. These penalties often take the form of fines, including paying for opposing attorney's fees, or the dismissal of the legal claim.
Brett McDonald discusses the strength of the Book of Mormon witnesses  below: